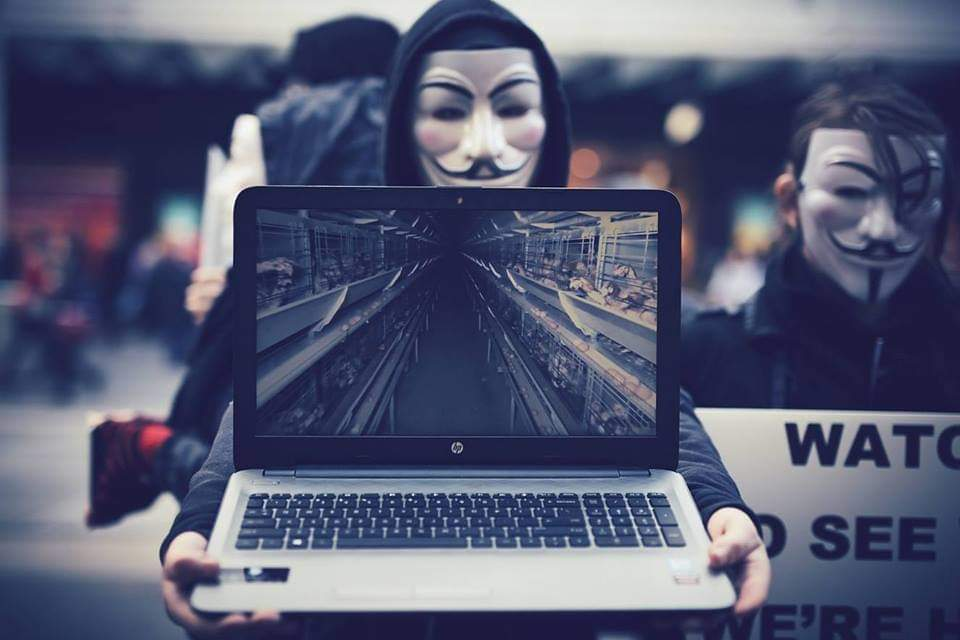 Event has ended
Perugia, Italy
Perugia, Italy Cube of Truth: Perugia
Hosted by Perugia, Italy
Sat, Mar 25, 2023, 04:00PM - 07:00PM CET
Magione, 55
Il Cubo della Verità è una campagna di sensibilizzazione di strada che impiega l'azione diretta con il pubblico, in modo strutturato. Usiamo filmati di pratiche standard visualizzati sugli schermi per esporre la verità sull'allevamento animale al pubblico e intraprendiamo conversazioni individuali per istruirlo sullo sfruttamento degli animali. Prima di partecipare ad un Cubo della Verità è obbligatorio apprendere il nostro protocollo per Outreach AV guardando il seminario completo "Rendere responsabili i non-vegani" e leggendo il nostro documento sul protocollo per Outreach AV:
Holding Non-Vegans Accountable Workshop: https://bit.ly/holdingnonvegansaccountable3
AV Outreach Protocol: https://bit.ly/AVOutreachProtocol
Maschere, cartelli e biglietti per la sensibilizzazione sono forniti dagli organizzatori. Porta con te un laptop o un tablet completamente carico, se ne hai uno, con il nostro filmato standard per il Cubo e il lettore multimediale consigliato già scaricato e pronto per la riproduzione in loop. È importante preparare il dispositivo in anticipo. Assicurati che il tuo dispositivo abbia l'audio disattivato, abbia il Wi-Fi disabilitato (per preservare la durata della batteria), abbia la funzione della luminosità al massimo e la protezione con password disabilitata.
Lettore multimediale raccomandato: http://www.videolan.org/vlc/
Filmati per il Cubo: https://www.anonymousforthevoiceless.org/event-footage
Quando partecipi ad un Cubo della Verità, non portare borse o effetti personali a meno che non sia assolutamente necessario. Se lo fai, significa che indosserai la borsa per tutta la durata dell'evento, quindi assicurati che sia leggera. Qualsiasi oggetto portato al Cubo è sotto la tua responsabilità. GLI ORGANIZZATORI NON CONSERVERANNO I TUOI EFFETTI PERSONALI E NON NE SARANNO RESPONSABILI IN ALCUN MODO.
Indossa sempre indumenti adatti al clima, NERO TINTA UNITA o AV senza grafica, inclusi i loghi di altre organizzazioni e / o messaggi vegani. Questo è essenziale per la nostra estetica. Puoi acquistare abbigliamento AV ufficiale sul nostro sito web: cubeoftruth.com. Assolutamente nessun abbigliamento di derivazione animale e nessuna pelliccia finta (comprese le finiture in pelliccia sintetica) devono essere indossati in un Cubo della Verità.
Rispetta sempre gli organizzatori del capitolo di AV e gli altri volontari, aderisci alla nostra struttura e rappresenta i nostri valori fondamentali mentre partecipi ad un Cubo della Verità. La serietà e la professionalità delle nostre azioni sono direttamente proporzionali a come il pubblico ci percepisce.
Grazie per stare con noi.
If you are interested in staying up to date on future chapter activity, please join the following volunteer group: https://www.facebook.com/groups/2163107193740528
The Cube of Truth is a street outreach campaign that employs direct action with the public, in a structured manner. We use standard practice footage displayed on screens to expose the truth about animal agriculture to the public and one on one conversations to educate them about animal exploitation. Before attending a Cube of Truth it is mandatory that you learn our AV Outreach Protocol of by watching the full "Holding Non-Vegans Accountable" outreach workshop and reading our AV Outreach Protocol document:
Holding Non-Vegans Accountable Workshop: https://bit.ly/holdingnonvegansaccountable3
AV Outreach Protocol: http://bit.ly/AVOutreachProtocol
Masks, signs, and outreach cards are provided by the organisers. Please bring a fully charged laptop or tablet if you have one, with our standard Cube footage and recommended media player already downloaded and ready to play on a loop. It is important to prepare your device ahead of time. Make sure your device is muted, has Wi-Fi disabled (to preserve battery life), has brightness maximized and password protection disabled.
Recommended Media Player: http://www.videolan.org/vlc/
Cube Footage: https://www.anonymousforthevoiceless.org/event-footage
When attending a Cube of Truth, please do not bring bags or personal belongings unless you absolutely need to. If you do, this means you will be wearing your bag for the duration of the event, so pack lightly. Any items brought to the Cube are your responsibility. ORGANISERS WILL NOT BE STORING AND ARE NOT RESPONSIBLE FOR YOUR PERSONAL BELONGINGS IN ANY WAY.
Always wear weather appropriate, PLAIN BLACK or AV branded clothing without any graphics, including logos of other organisations and/or vegan messages. This is essential to our aesthetic. You can purchase official AV clothing on our website: cubeoftruth.com. Absolutely no animal derived clothing and no fake fur (including faux fur trims) is to be worn at a Cube of Truth.
Respect AV chapter organisers and other volunteers at all times, adhere to our structure and represent our core values while attending a Cube of Truth. The seriousness and professionalism of our actions are directly proportional to how the public perceives us.
Thank You for Standing With Us.
37 Strada Ludovico Ariosto
Magione, 55